Why is Operation Research Significant for Students?
Operation research is a significant management concept. Most of the assignments in management are based on operation research and must be handled carefully because of their critical nature. Operation research is an important technique which is used in organisations for problem-solving and enhancing the decision-making capability of the employees/managers. There are several operation research tools used by the managers to carry out their strategic decision making. In research, operation research is a broad field. Researchers use a wide-array of tools for carrying out research, including mathematical optimisation, mathematical modelling, etc. The aim of doing research is to enhance the performance and efficiency. This helps in explaining the factors that can be damaging. There are various organisations that use different methods for solving several problems.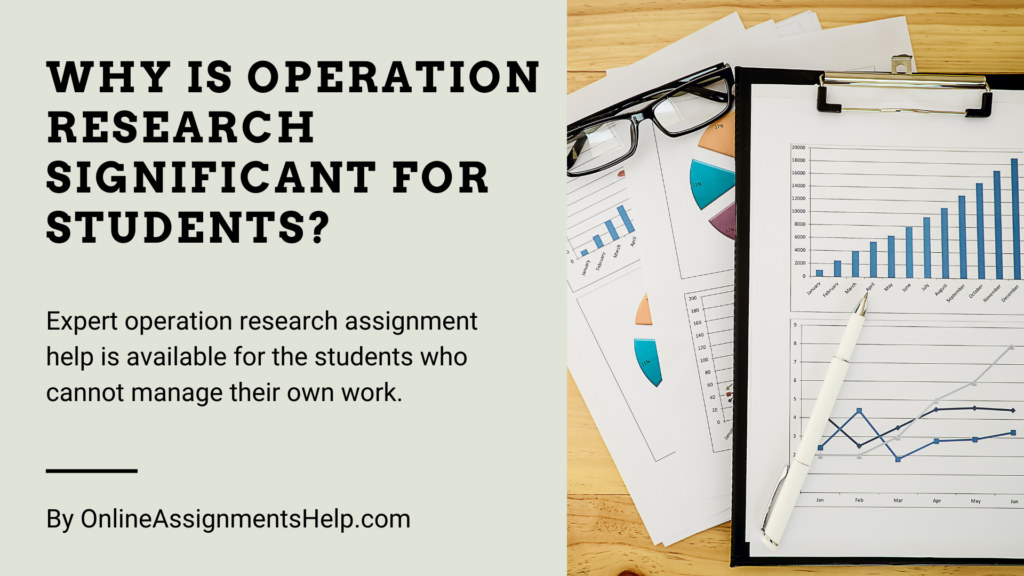 As a subject, operation research has been incorporated into the curriculum of management students so that they can gain effective skills to gain the objectives. Students have to do management assignments using the concepts of operation research. The operation management assignments are critical and must be done carefully so that the requirements are addressed well.
Importance of Operation Research
The key aim of using operation research is to enhance the performance and efficiency. With operation research, the users can conduct an analysis of crucial things. Organisations use different methods for solving the problems of the real world. There is a need to follow the significance of this field, as students who wish to become successful managers must have knowledge of this. There is a need for the students to have knowledge of how operation research needs to be conducted so that they can do it later in their organisations. Operation research comprises simulation, mathematical logic, queuing theory, and network analysis. Operational research is needed in different industries such as oil and energy, financial engineering, healthcare management, marketing system, service systems, military defence, supply chain management, telecommunications network, etc.
Different methods used for OR
There are various methods that can be used for solving operation research assignments. These are as follows.
Analytical method: A key method in operation research is analytical method. This method uses traditional optimisation techniques along with the mathematical calculations to solve the problems concerned with operational research.
Numerical method: Another key method is the numerical method, also known as the iterative method. This method is used when other methods cannot be used. Numerical methods have numerical calculations and use different mathematical methods for carrying out the problem-solving.
Monte-Carlo method: The third type of method is Monte Carlo method, which is used for carrying out the problem solving using specific values at different timelines. The method is used for selecting the right variables.
These are commonly used methods for OR assignments.
Operation Research Assignment Help
Considering the significance of the field, students face various problems when doing these assignments. They often have a lack of time due to which doing a good assignment and submitting within a deadline is always a problem. Hence, expert operation research assignment help is available for the students who cannot manage their own work. They can outsource their assignment to well-qualified writers who have extensive experience in providing unique and high-quality assignment solutions. Our experts assure you of an outstanding score so that you do not have to worry and can focus on other important things in your life. Our costing model is very nominal and we value every student who comes to us. We ensure we help you get good scores so that you can stay loyal to us and even help us in word-of-mouth marketing.