How to Start your College Search?
When there are so many college choices in hand, a high grader who is just passed out and is naïve might find the selection quite daunting. While there are thousands of colleges looking equally appealing, there are many things that can help you make the right pick. But of course the selection isn't that easy; a wrong choice might put the entire academic career at stake and no one wants to regret this choice.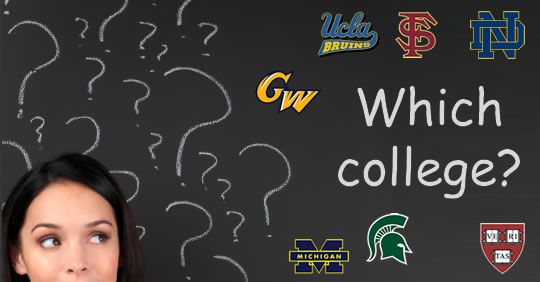 Selection of a college from the list can be simplified by following the below given tips
Talk to Your Family–The first step to take a decision further in this direction is to hold a detailed discussion with family. Discussing your interests and goals will help them see through what your want to be and how you can actually reach there. Basis your aspirations the courses available with the college can be assessed to make a perfect match. Also, this will help your family to take an insight on what sort of investment is required for you to graduate.
Make a List: Well everyone has a checklist of specific wants that make a college someone dream college. This can include going ahead and researching what different colleges are offering in terms of assignments help, individual attention, extracurricular activities and exposure to the real world while you are still in your learning stage. It is a very useful exercise that will help one to have a better idea towards the actual offerings by an education institute.
Take advice: if you are in touch with any college counselor or principal, it is best to seek advice and know which college will be best for your needs. Also, make connections and see who all are already studying in your shortlisted colleges to know the quality of education being offered and how they are grooming to come up the curve
Keep a tab on your mail: Check your mails regularly keep a tab on the updates being received from all the colleges where you have applied as options. Read the college brochures and emails thoroughly and visit college websites and derive useful information.
Attend College Fairs:It is best to attend an activity such as an event or a college fest in the college to meet existing batch of students and talk to them about their college experience. Also, you can sign up for college mailing lists to receive useful information.
Pay a visit to a Campus: Such visits give feels and taste of college life. It exposes the person to its environments and a better sense of how it makes it alumni feel. Visiting campuses will help you chalk out points of difference and choose the best among the rest.
Take everything together:Once collected, collate the information at one place and use all it to see which colleges is more suitable for you to fulfill your academic aspirations.
Onlineassignmenthelp.com is a student's help site that can help them sail through assignments problems easily, making their college life easy and stress-free.