Business Management 101: 5 Leadership Skills for Business Managers
Business Management 101 is a required course that can help in increasing the knowledge and skills of management students. However, there are several concepts that business students must understand to do justice to the course. With businesses getting more competitive, it has become crucial for business managers to focus on effective management strategies. How business organisations work has changed completely. Business management is usually about supervision, organization, and coordinating business resources and operations to meet objectives. A business manager usually has several responsibilities so that business objectives can be achieved. This ensures the operations of a business can be managed well.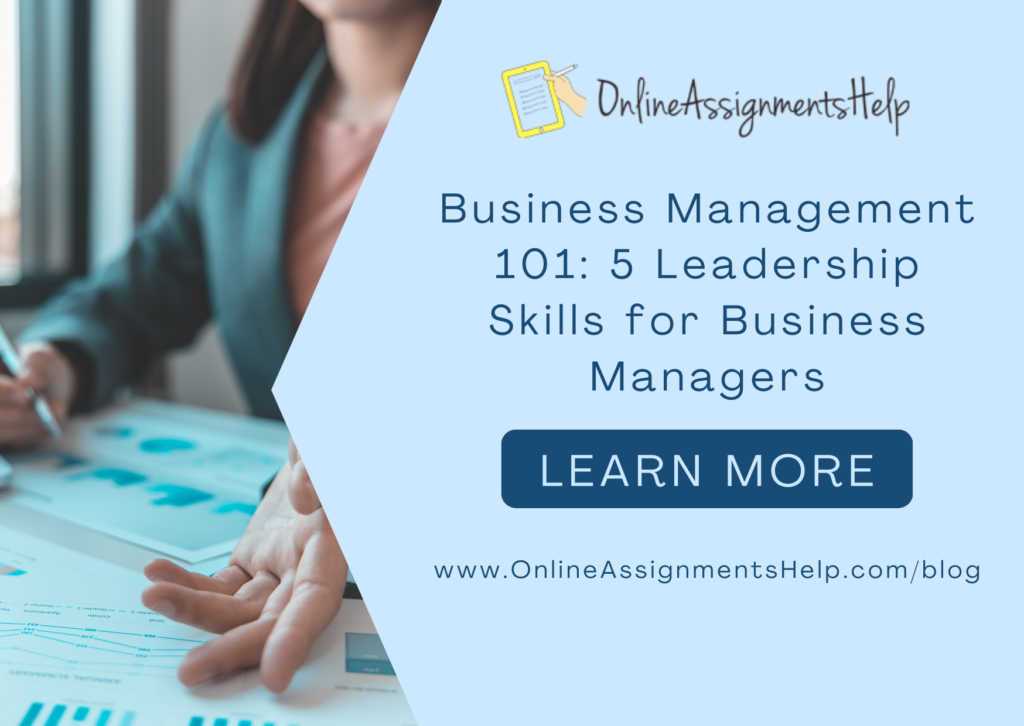 Business organisations work when managers have the appropriate skills. These include finance, planning,
Finance: A vital aim of any business is to make a profit by selling appropriate products and services, for which business managers must have the right financial skills to make well-informed decisions. This ensures that the organisation can achieve success. Managers should know about budgeting, accounting, financial analysis, and much more so that they are effectively able to coordinate. This helps in managing losses and profits for the firm.
Planning: Another crucial skill is planning. There is a need for the management to allocate resources evenly so that the right opportunities can be grabbed. This helps in mitigating any risks. Appropriate and comprehensive planning is crucial for this. With the right planning, a business manager can strategize and develop plans to drive organisational growth and also get rid of risk factors.
Leadership: The third crucial skill that every business manager should have is leadership skill. An organisation cannot achieve objectives to show the workforce is inspired and motivated. Only managers with strong leadership skills can do this. This can help in managing teams and risks effectively.
Communication: The last crucial skill every business manager should have is communication. Business organisations work when there is efficient communication in the organization. One should be clear enough to ensure that goals can be achieved and every team member can fulfil his job role. Hence, this reduces confusion and also ensures business organisations run smoothly.
Risk management: Another crucial skill that business managers must have is risk management. Business managers must employ appropriate risk management strategies. This should include managing risk analysis and mitigation techniques to manage operations properly.
These are some of the skills that every business manager must possess so that business organisations can work well. Business managers are the drivers of the organisation. They have ample responsibility to ensure that their goals are achieved and they can effectively manage different operations. Managing a business can be hard work, and when it leads to generating profits, it can be rewarding also.
Over time, business managers have to ensure that they undergo appropriate training to update their knowledge and skills. This can help in ensuring the success of the business and also increase career growth for them. This can help in ensuring that business managers are able to achieve objectives.