10 Topmost Canadian Universities to Deal with Management Programs
Canada is the education hub owing to which it has become a personal favourite of many students who wish to pursue courses in niche and distinctive spheres. The class and quality of education here is unsurpassable and universities and colleges in Canada enjoy a leading position when it comes to offering management courses. As a matter of fact, students who wish to pursue a career in the management domain, rate Canadian universities and colleges at the number one place. Canadian In addition to this. Canada offers a big lot of scholarships to students both nationally and internationally thus making it a place that is open to accepting multicultural people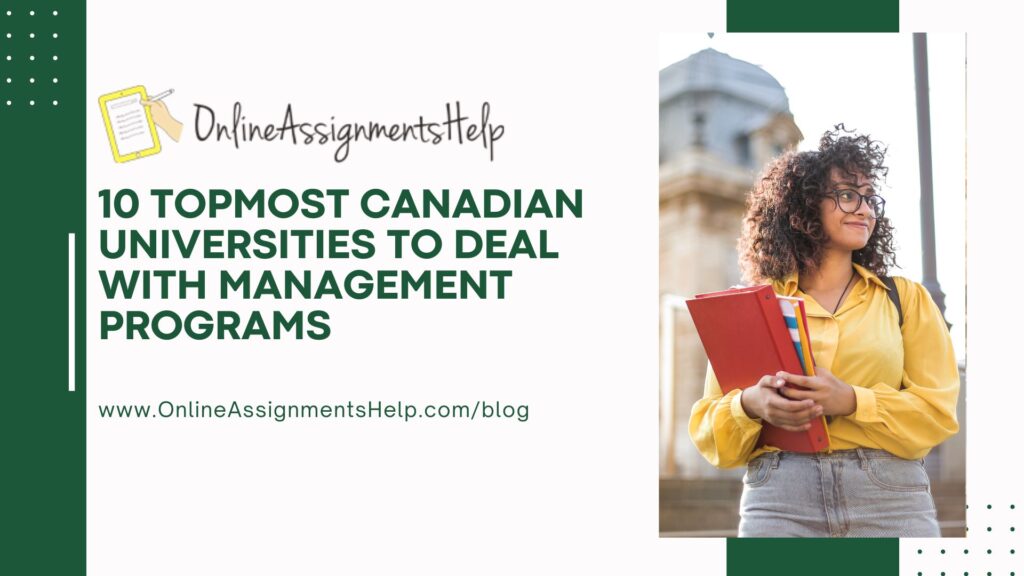 Even though all the educational institutes in Canada have their own set of distinctness and strengths, when it comes to pursuing management programs, 10 universities take the lead. These universities have managed to make it to the list owing to their comprehensive curriculum and great industry placements. The list unveils the following names:
Queen's University, Smith School of Business: This is the top-rated Canadian University that has outlined the toughest management programs which students have to clear to reserve a seat for themselves. This entity offers a joint MBA program which secured 45th rank and was featured in the Financial Times.
York University, Schulich School of Business: It is recognised by all as the business school which took the initiative to develop the first-ever international business and management degree. The reason why it is second best among the lot is owing to the creative teaching methods followed by the faculty here.
University of British Columbia, Sauder School of Business: This school offers to joint degree courses with specialisations of Business and Computer Science. Its campus is remarkable and university life is very promising.
Rotman School of Management: Offering a noticeable count of 200 courses, this educational institute has presented a wide variety of undergraduate courses which is taught by the professors who must hold a doctorate to be eligible to teach here.
Richard Ivey School of Business: This business school has always been in news for offering a striking rate of placement to its students. also, the placement done from here are highly paid, which is why the admission criteria are not that easy to crack.
Haskayne School of Business: This school offers over 1800 commerce related courses apart from the ever-popular management programs.
HEC: Students looking for a college that offers structured bilingual and trilingual degree courses taught by a talented faculty, this school is their destination. Offering education at a nominal cost, it is rated best when it comes to securing graduate degrees in French and English languages.
Laurier School of Business and Economics: These schools present to students with graduate The Co-op MBA program which till date boasts of 100% placement.
Telfer School of Management: It is popular among students who wish to pursue Management consultancy at a Lowercase – suggestion admission fee.
Desautels Faculty of Management: This schools also offer a promising career to management students.